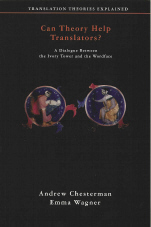 This book is a dialogue between a theoretical scholar and a professional translator, about the usefulness (if any) of translation theory. Andrew Chesterman and Emma Wagner argue about the problem of the translator's identity, the history of the translator's role, the translator's visibility, translation types and strategies, translation quality, ethics, and translation aids.
For readers already working at the translation 'wordface', especially those who are sceptical of all theorizing, the book aims to challenge their view of theory. For those in the 'ivory tower', such as students, teachers and scholars, the book will strengthen the connections between theory and practice. For both groups, the book is an invitation to join the discussion.
Emma Wagner is a translator and translation manager at the European Commission in Luxembourg.
Andrew Chesterman is professor of translation theory at the University of Helsinki in Finland.