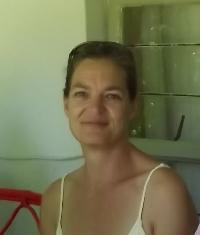 Medlem sedan Jul '04
Arbetsspråk:
Tyska till Engelska
Engelska till Tyska
Afrikaans till Engelska
Afrikaans till Tyska
Engelska (enspråkig)
Kathinka van de Griendt
3 Decades of Medical Experience



Lokal tid:

17:23 SAST (GMT+2)




Andra översättares sannolikhet
att jobba med den här personen igen (LWA)

Frilansare och byrå/företag,

Verifierad medlem
This person has a SecurePRO™ card. View now.

Blue Board: QuickStep Translations Employer: QuickStep Translations
Translation, Editing/proofreading, Software localization, Transcription, Project management
Specialiserar inom:
Medicin: Läkemedel
Medicin: Instrument

Medicin: Hälso- och sjukvård

Medicin (allmänt)

Marknadsföring/marknadsundersökning

Spel/tv-spel/spel/kasino
More
Poäng på PRO-nivå: 238, Antal besvarade frågor: 183, Antal ställda frågor: 141
19 poster



More
Wire transfer
Euro (eur), Pounds sterling (gbp), U. S. dollars (usd), South African rand (zar)
Provöversättningar: 2


More
Kat's Glossary
Offers job opportunities for freelancers
Other
Arbetat med översättning antal år: 28. Registrerad på ProZ.com: May 2004. Blev medlem: Jul 2004.
N/A
N/A
Kat&Co.
Adobe Acrobat, DejaVu, memoQ, Microsoft Excel, Microsoft Word, Anycount 8, Idiom Workbench, Office 365, Powerpoint, SDL TRADOS, STAR Transit, Wordfast
CV will be submitted upon request
Fourth ProZ.com Translation Contest: German to English


5th ProZ.com Translation Contest: English to German

Kathinka van de Griendt omfattar ProZ.com's Riktlinjer för professionalitet (v1.1).
Bio
Personally, I specialise in medical/medical technology, obstetrics, neonatology, medical reports, SOPs/PILs and marketing translations into both English and German but I am also well-versed in technology/IT and general literature. CV available upon request.


Our team of native speakers provides translations from and into most European languages in the medical, veterinary, marketing, consultancy, sports, financial, legal, technical, IT and gaming fields, as well as most other areas upon request.

New!
We have expanded our team to include medical and marketing translations from Swedish and Danish to English!
PLUS
We are now also able to provide translations in the marketing, medical and tourism fields from English to IsiXhosa, S. Sotho, Tsitsonga, IsiZulu and Tswana!

Fair pricing, excellent results, deadlines kept at all times!


Member: South African Translators' Institute

Den här användaren har tjänat KudoZ-poäng genom att hjälpa andra med termer på PRO-nivå. Klicka på poängsumman/-summorna för att se översättningarna av termerna.


Nyckelord: pharmaceutical, Pharmazie, Summary of product characteristics, medical marketing, marketing presentations, PPT, Marketing, Marketingpräsentationen, SPC, translations german to english medical, Zusammenfassung der Merkmale des Arzneimittels, Etikettierung, labeling, labelling, Packungsbeilage, Fachinformation, prescribing information, package leaflet, prescriptions, Gebrauchsinformation, product catalogue, product catalog, company brochure, instructions for use, IFU, scientific studies, anaesthesia, intensive care, airway management, respiratory care, intubation, Study Protocols, User Manuals, FDA Applications, Informed Consent Forms, PILs, SPCs, Medical Records, beipackzettel, betriebsanleitungen, chirurgische instrumente, chirurgische lasersysteme, translation clinical information systems, medical device connectivity, clinical records, clinical trial, computer documentation, computer handbücher, consulting, cultural consulting, cultural consultant, deutsch, dental devices, dental translations, documentation, german linguistic evaluation, dutch german medical translation, clinical research, german english medical translation, german english translation, englisch ins deutsch, english german, english german translator, english to german translation, english to german translator, fachübersetzer, FDA anträge, german medical translation, german translations, german translator, glossary production, hospital information systems, professional translation services, krankenhausinformationsystem, localization, localisation, linguistic testing, market research, medical device translation, medical devices, medical equipment, medical imaging, medical informatics, medical instruments, medical translation, medical translations, medical translation services, german medical translation services, medical interpretation services, medical translator, german medical translation, german medical interpreter, german medical translator, medizinische fachübersetzungen, medizinische geräte, medizinische übersetzungen, medizinischer dolmetscher, medizinischer fachdolmetscher, medizinischer fachübersetzer, medizintechnik, minimal invasive chirurgie, minimal invasive surgery, pain management, pain therapy, patente, patents, patient package inserts, patient records, patientenakten, pharmaceutical translation, pharmacology, pharmakologie, pharmakologische übersetzungen, psychiatrie, psychiatry, psychologie, psychology, radiology, software localization, software lokalisierung, software manuals, studienprotokolle, subtitles, translation from german to english, übersetzung deutsch englisch, übersetzungen, regulatory affairs, regulatory affairs übersetzungen, regulatory affairs translation, gerätekonnektivität, medizingerätekonnektivitättracheostomy, non-invasive ventilation, non invasive ventilation, laryngeal mask, emergency airway, ventilation, ventilators, gases, anaesthetics, gas conditioning, heating & moisturing, filtration, breathing circuits, pain management, epidural, South Africa, Germany, England, epidurals, spinal anaesthesia, peripheral nerve blocks, regional anaesthesia, ambulatory and perioperative pain therapy, patient controlled analgesia, PCA, temperature management, infusion medicine, transfusion medicine, temperature monitoring, convective patient warming, radiators, electronic & heated water mattresses, irrigation, blood warmers, monitoring, pulsoximetry, capnography, multiparameter monitors, telemedicine, paediatric anaesthesia, paediatric intensive care, surgery, internal medicine, general surgery, minimal invasive surgery, MIC, wound drainage, abdominal, pleural, thoracic surgery, thoracic drainage, cerebrospinal drainage, classic wound management, modern wound management, ulcer prevention, ulcer treatment, kinetic therapy, electrostimulation, neuro surgery, vessel surgery, orthopaedics, rehabilitation, physiotherapy, gastroenterology, nursing, general care, homecare medicine, emergency medicine, resuscitation, ENT, cardiology, gynaecology, obstetrics, nosocomial infections, healthcare economics, medical statistics, medical translator, medical-translator, medical translations, medical translators, medical translation, medizinische Fachübersetzungen, German to English, English to German, all languages supported, health 2.0, e-health, telemedicine, Telemedizin, anesthesia, Anästhesie, Beipackzettel Übersetzung, biologie, biology, biotech, biotechnologies, biotechnology translation, biotechnology, BPF, chirurgie laser, Chirurgie, clinical information systems, clinical records, clinical research, clinical trials localisation, clinical trials localization, clinical trials translation, clinical trials, documentation, dossiers patients, DRGs, EMA, European Medicines Agency, FDA guidelines, EMA guidelines, FDA Applications, FDA, GMP, Good Manufacturing Practices, Good Clinical Practices, healthcare translation, healthcare, hospital information system, South African translator, HIS, bedside device connectivity medical device connectivity, medical device integration, HL7, EMR, Electronic Medical Record, CPOE, BMDI, biomedical device integration, bedside medical device integration, UMDB, universal medical device bus, automated charting, paperless charting, CIS, Clinical Information System, HCIS, Healthcare Information system, EPR, Electronic patient record, CPR, Computer-based patient record, medical device data systems, MDDS,
208 besök den senaste månaden.
från totalt 132 besökare Den här profilen har fått
Profilen uppdaterades senast
Jul 17, 2019