Dictionary and reference board
A searchable database of dictionaries and other works of reference which may be of use to language professionals.
| | |
| --- | --- |
| Posted by: | Nelia Fahloun (X) |
| ISBN: | 2702712460 |
| Author: | René Meertens |
| Edition: | Hardcover |
| Pages: | 543 |
| Pairs: | Engelska till Franska |
| Broad fields: | General |
| Publisher: | Chiron, Paris |
| Price (approx.): | 30 EUR |

Average community rating for this book

5

2 entries
Description: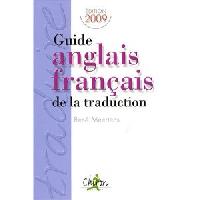 Destiné à qui possède déjà une connaissance satisfaisante du vocabulaire anglais, ce guide a pour but de faciliter la traduction d anglais en français, en prenant le relais des dictionnaires traditionnels. Il répertorie méthodiquement les diverses significations de mots et d'expressions difficiles à traduire. privilégie les pièges du vocabulaire anglais et propose une gamme très riche d'équivalents. De nombreux exemples traduits illustrent les différents sens et l'utilisation des équivalents proposés. Il permet ainsi de résoudre la plupart des problèmes de traduction. Les mots et expressions traités sont ceux qui figurent dans les textes auxquels sont confrontés quotidiennement les traducteurs professionnels. Une attention particulière est donc accordée à des disciplines telles que l'économie. la finance, le droit. la politique. l'enseignement, les médias, l'informatique. etc. Ce guide repose sur près de 30 ans d'expérience de la traduction. Les équivalents proposés ont donc été mis à l'éprenne d'une longue pratique professionnelle.